How Prepared is Prepared Enough?
 A Severe Windstorm Experience
in British Columbia, Canada
by April McKenzie
Situational Overview
Though born and raised in Alberta, I have lived in British Columbia, Canada, for some years now, specifically on Salt Spring Island (just off the east coast of Vancouver Island), with my parents and one of my brothers since 2015. Our house is powered by BC Hydro with above-ground electrical lines. We tend to get power outages here and there in winter windstorms as branches of the tall forest trees will often fall and break the power lines somewhere leading up to our place, which is situated on a fairly high rock outcrop with south to west exposure.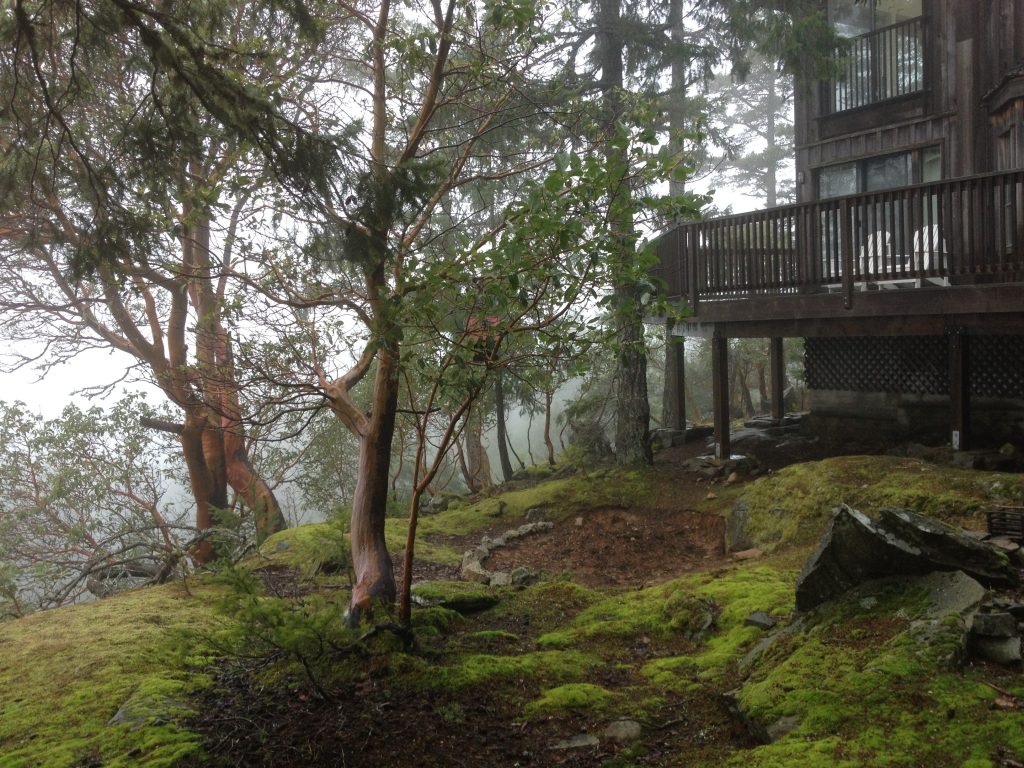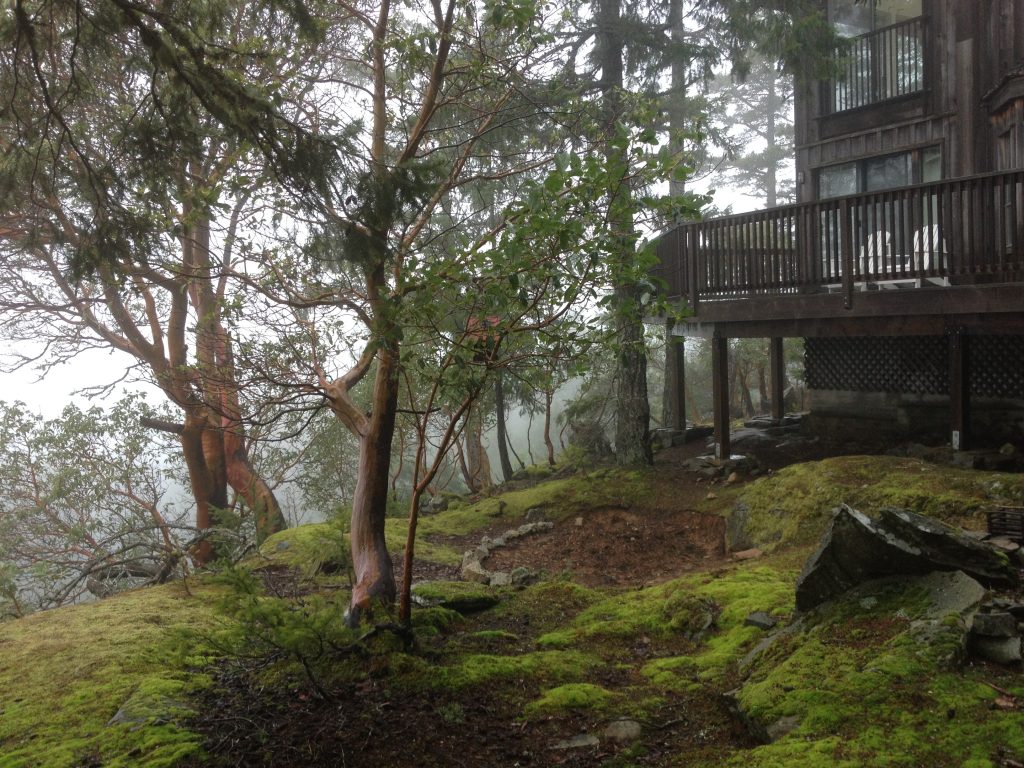 We have no furnace anymore. Shortly after purchasing this house, my parents purchased a wood stove, and throughout this last year, they closed off the old furnace system and installed a Sunpump in-floor heating system , which runs on BC Hydro electricity and is assisted by solar heating panels on the south side of our house. We also bought an emergency generator this last summer that can run on propane. Our place has a propane tank which is still in use to heat our hot water. We require electricity to pump water out of our well, but we also have a fairly large storage tank full of collected roof rainwater (~1200 gal). We use well water filtered through a Berkey gravity filter for drinking water.
The Storm
The largest wind storm we have ever experienced happened on Thursday, December 20th, 2018. Our BC Hydro grid power went out around midday that day and was not returned to our specific location until 8 days later (mid-morning on Friday Dec. 28).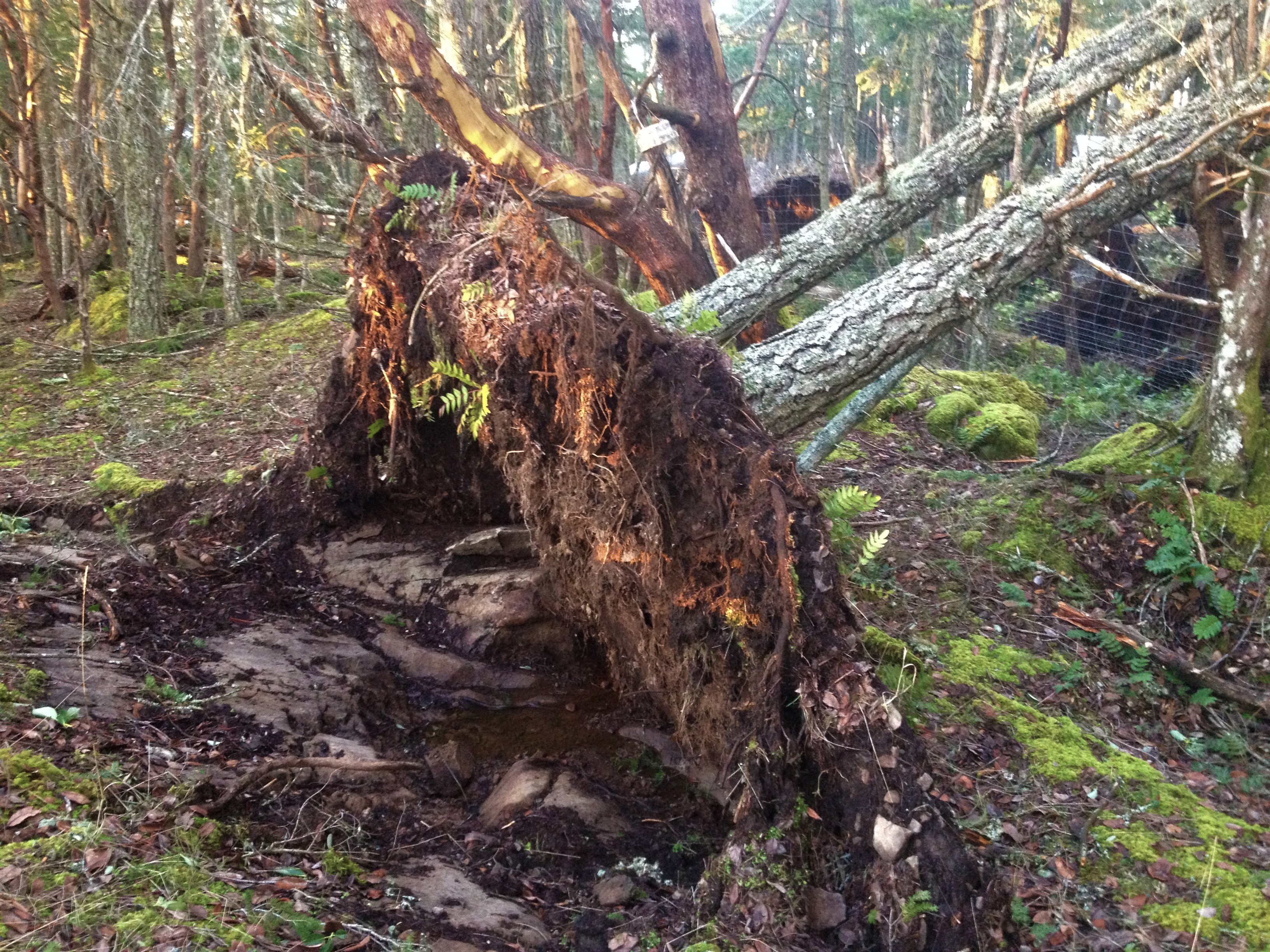 I had just returned from a Vancouver trip the night before the storm and spent most of that next day watching the wind wreaking havoc outside the windows. Mind you, none of us stayed too close to the large windows very long, knowing that a large falling branch or other flying object might potentially smash one. We closed curtains over most of the windows for this reason. Luckily, all of our windows remained intact.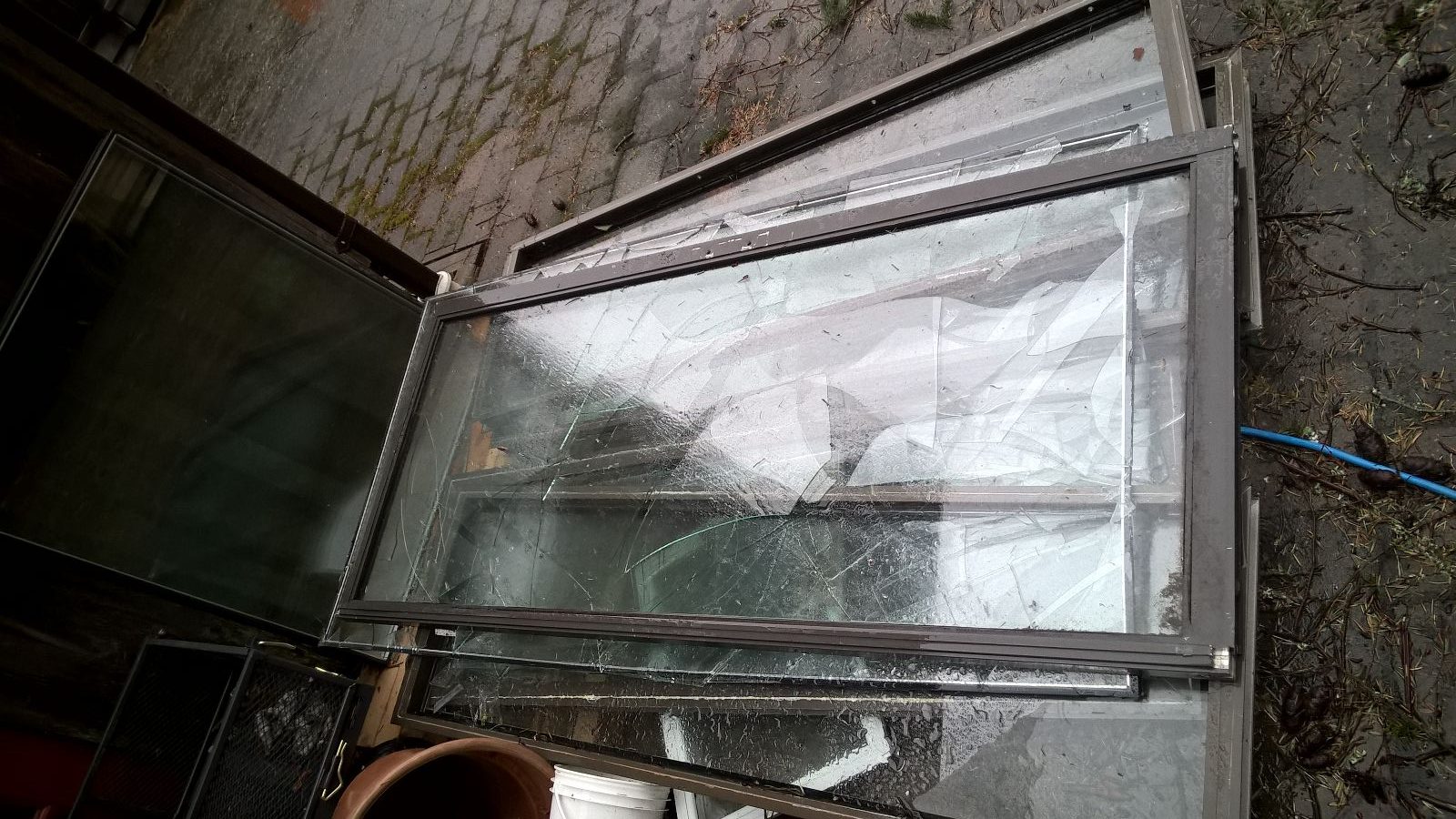 If a window broke, what would we do?
On that day, I tried to imagine the chaos the wind would immediately cause in our house if such happened and what we would need to do. Sealing off the opening with a tarp and duct tape came to mind first, but on further thought, I figured a large board would be needed in addition to prevent the wind in the tarp from pulling up the duct tape right away, so then I thought we could use the couch for that and perhaps also use the couch first as a makeshift partial block, as it sits closest to the windows most at risk, before retrieving a tarp and duct tape or whatnot other boards to better seal the opening. I imagined the house could get somewhat ripped apart from the wind pressure if the wind gusts were to get into it for too long. Needless to say, experiencing this hurricane-type storm has made me desire installing some kind of hefty storm shutters.
My family had gotten word of warnings for expected high winds up to 110 or 120 km/hr, but in the last bits of time before the full of the storm blew in, everyone thought everything was battened down and ready. We were a bit mistaken. . .
We realized some random & loosely piled things below the deck had been forgotten when we saw random buckets, bins and things go tumbling and flying.
We also realized no one had thought about our rather weighty wooden bear-chair-style deck chairs needing to be secured as we watched a group of them slide across our deck and around the deck corner. In the end, one chair had tumbled up on top of the rest–breaking a joint in the process–and perched almost high enough to tip over the deck rail which prevented the chairs from flying any farther. Other chairs in the yard of the same design were blown about until upside-down, which is their most wind-resisting position.
No one had thought beforehand to secure the deck gate somehow and check the wheel locks on the two barbecues. I think the hinges of one side of the deck gate had previously broken and that's why it hadn't been secured. . . I saw the other side of that gate wildly flapping in the wind before finally ripping right off. Immediately after that, more wind could enter the deck space near the deck door, so the two barbecues there started rolling away–very slowly at first then gaining speed–towards the steps beyond where the gate had been. At this point I called out in alarm at what I saw, and my brother ran out the door to catch the barbecues before they fell down the steps. It looked as if he was about to blow away, too, as he struggled to move in the crazy wind outside grabbing at both the barbecues at once. He did manage to catch them both in time and lock the wheels after positioning them where they wouldn't fall. My mom and I together could hardly manage to close the door behind my brother as the wind was blowing so strong. My dad later told us that he was upstairs at that time, and he witnessed the attic door lift and hover from the pressure when the deck door had been open.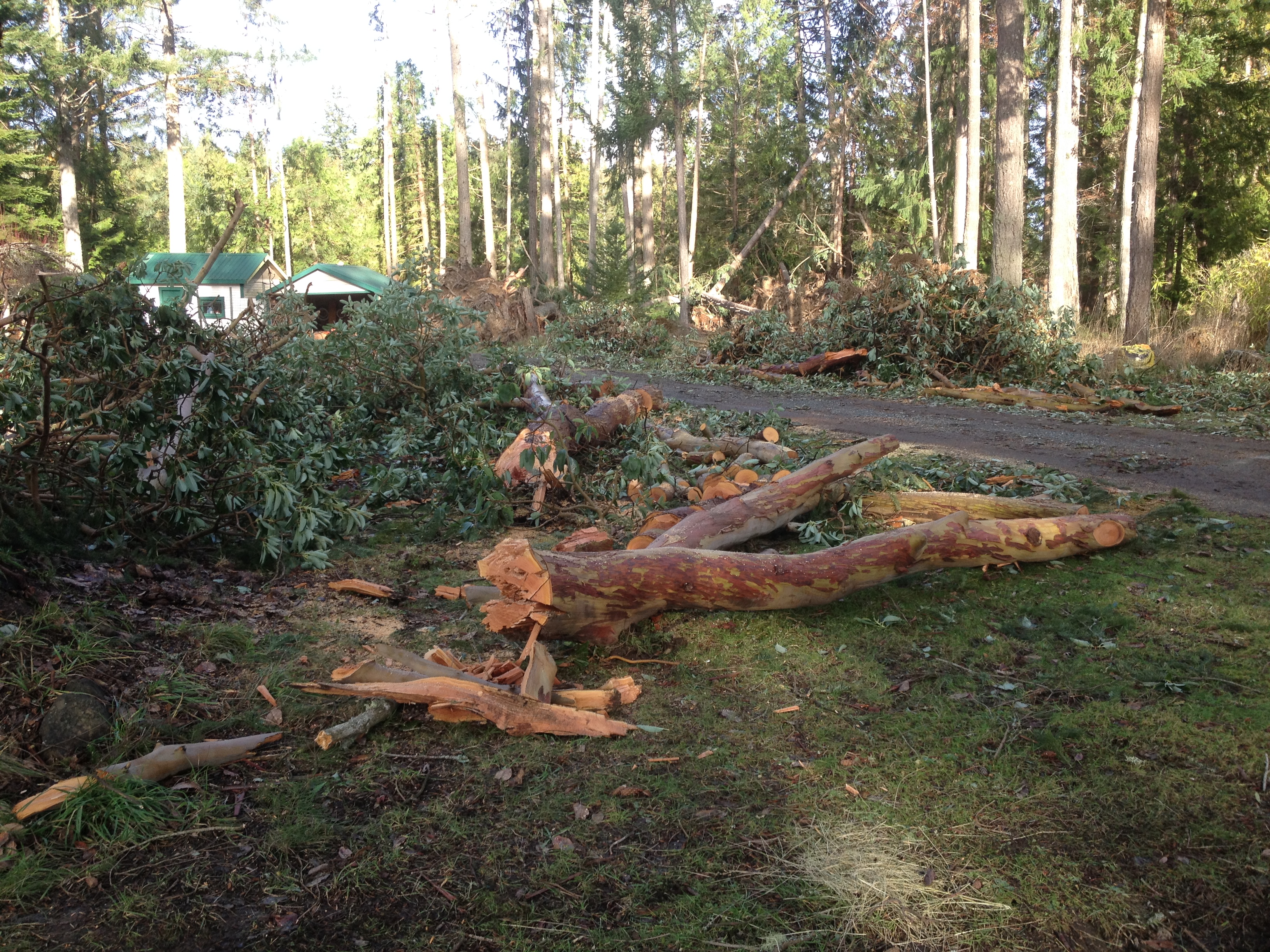 Additional Note: My brother had gone out during the beginnings of the storm to check and tend the birds — we have a small flock of chickens, ducks and geese. He learnt from that first outing, in witnessing flying branches and through getting a rather-terrible-but-not-serious eye injury from a flying fir cone that a hardhat/helmet and safety glasses/goggles were essential when leaving the house in this weather. Most of that day he remained geared up to go outside when need-be (i.e. to catch barbecues).
Lastly, no one thought to better seal and secure a tarp shelter outside our front door as it's in a relatively sheltered place in a nook between the garage and house, but securing it became evidently essential during the storm to prevent it from blowing away. My dad left the house without head protection to go help my brother with this task. Meanwhile, my mom and I watched from inside. I noticed during this time a 20-30 ft. crown of a tree almost broken and precariously dangling above the vicinity in which my dad and brother were working. Thankfully, it didn't fall then. If it had, it likely would have blown beyond their location anyway, but it was still unnerving to watch. It did crash down sometime during the storm. Taking risks like these during such a storm could have been avoided and could in future be avoided.
A large Douglas fir tree near our garage began uprooting and falling towards our garage roof, but it never quite crashed all the way, thankfully. After the storm it was strapped to another tree for support as a temporary precaution. I don't think we could have recognized this tree as a danger before this storm, but we can now prune it shorter to prevent it being a danger in the next wind storm.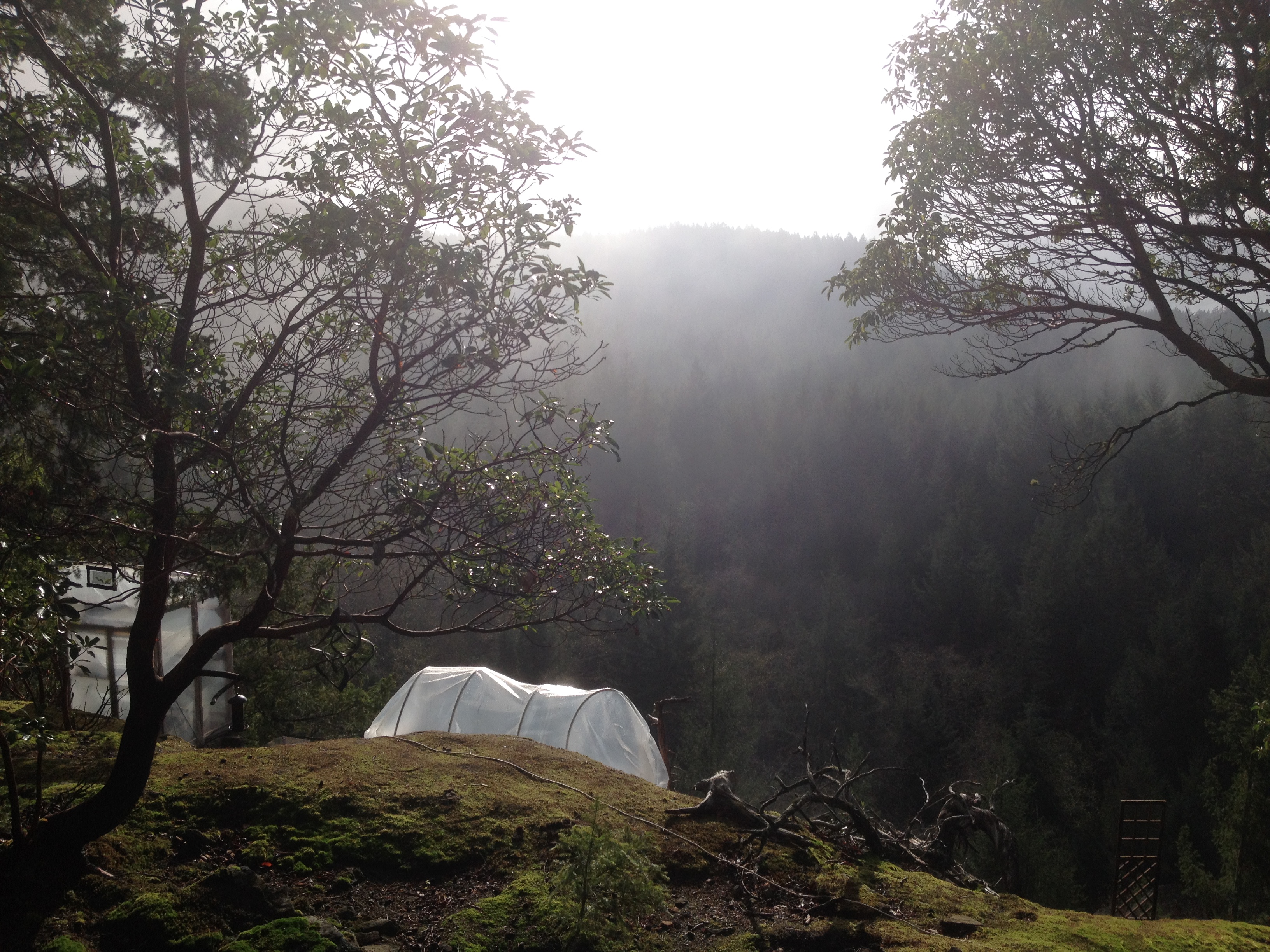 Some of the wind gusts were so strong, I thought our roof would be torn off at times. For awhile I was just staring at a small greenhouse we have perched on the cliff edge, waiting to see it get torn off and blow away, but as much as it was pulled wildly to and fro, it remained attached. I later observed how well bolted and strapped it is to the rock wall it's up against.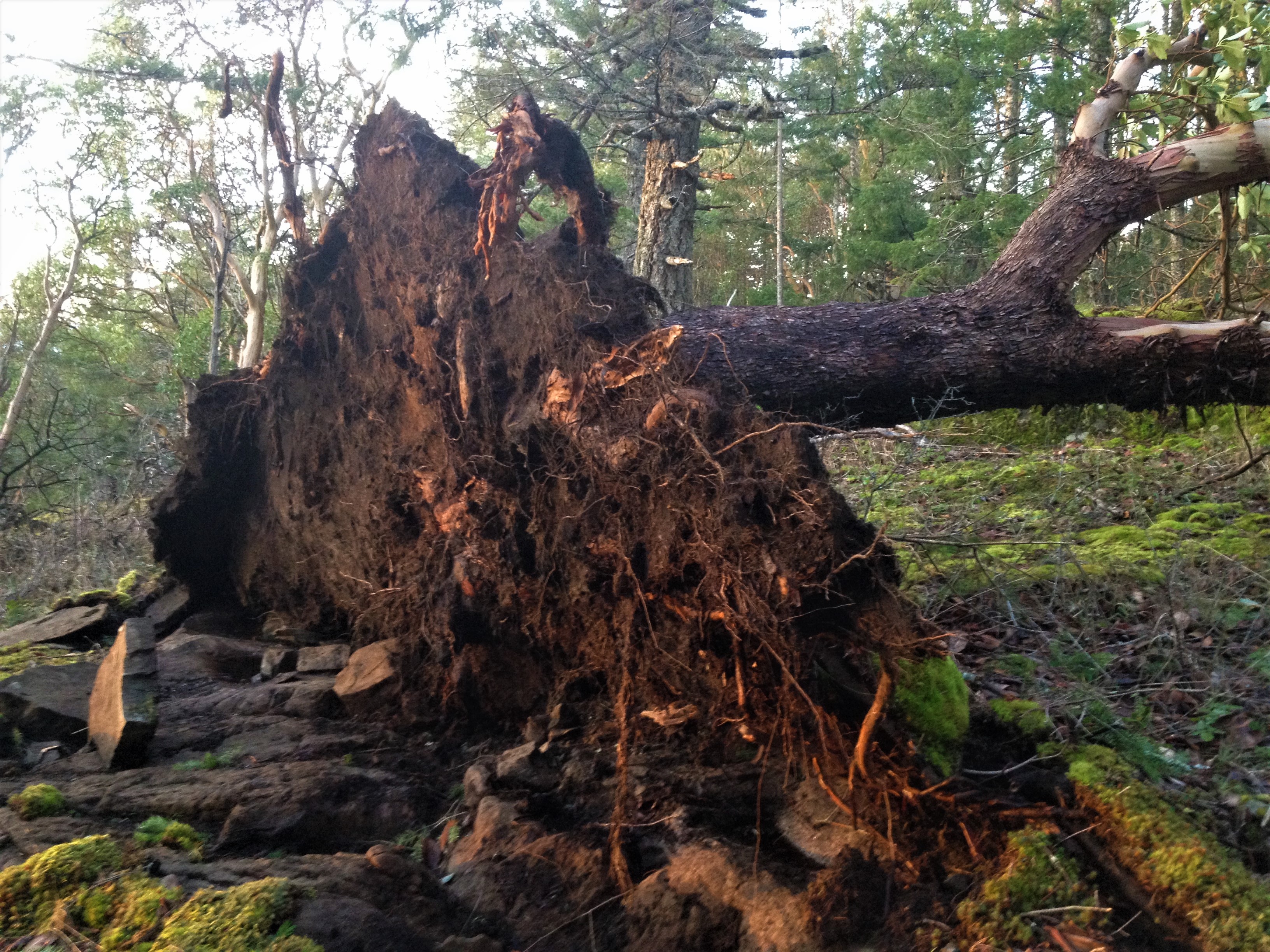 The Aftermath
Many giant trees and clusters of trees were totally uprooted during this storm. Some broke and damaged our deer fence and bird yards. All the birds survived, protected in their given shelters. I'm saddest about losing all these huge living trees, but I count us very fortunate to be able to be saddest about the lost trees. Some of them may still have enough roots buried to shoot up new trees from their now horizontal trunks.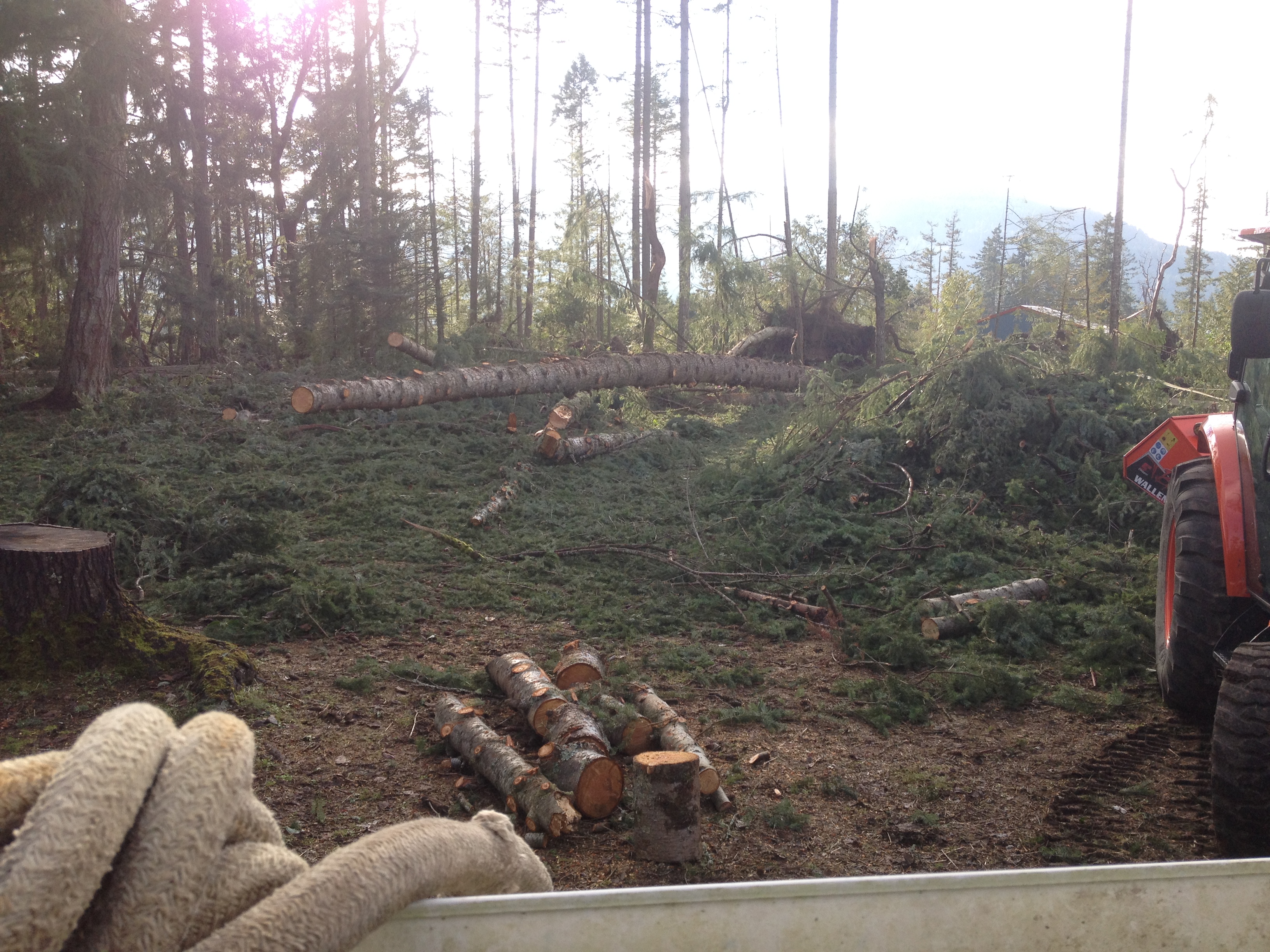 The worst damage I've seen across this island is where a couple of narrow but dense strips of fairly old tall trees were left to grow between roads and clear-cut properties. Most of the trees that made up these tree walls are now completely uprooted, but writing this is a pathetic understatement of the effect compared to observing the before-and-after in person.
Sidenote: On the other hand, in a world where masses of life, human and other species, are suffering and dying in atrocious ways, I feel quite ridiculous to be highlighting my personal sense of devastation from seeing these large uprooted trees result from this big windstorm. Most of the lost trees are not even old-growth; the fallen ones are perhaps 60-100 yr on average, though I'm quite a poor judge of tree age. All-in-all we have worse damage being done by private loggers here.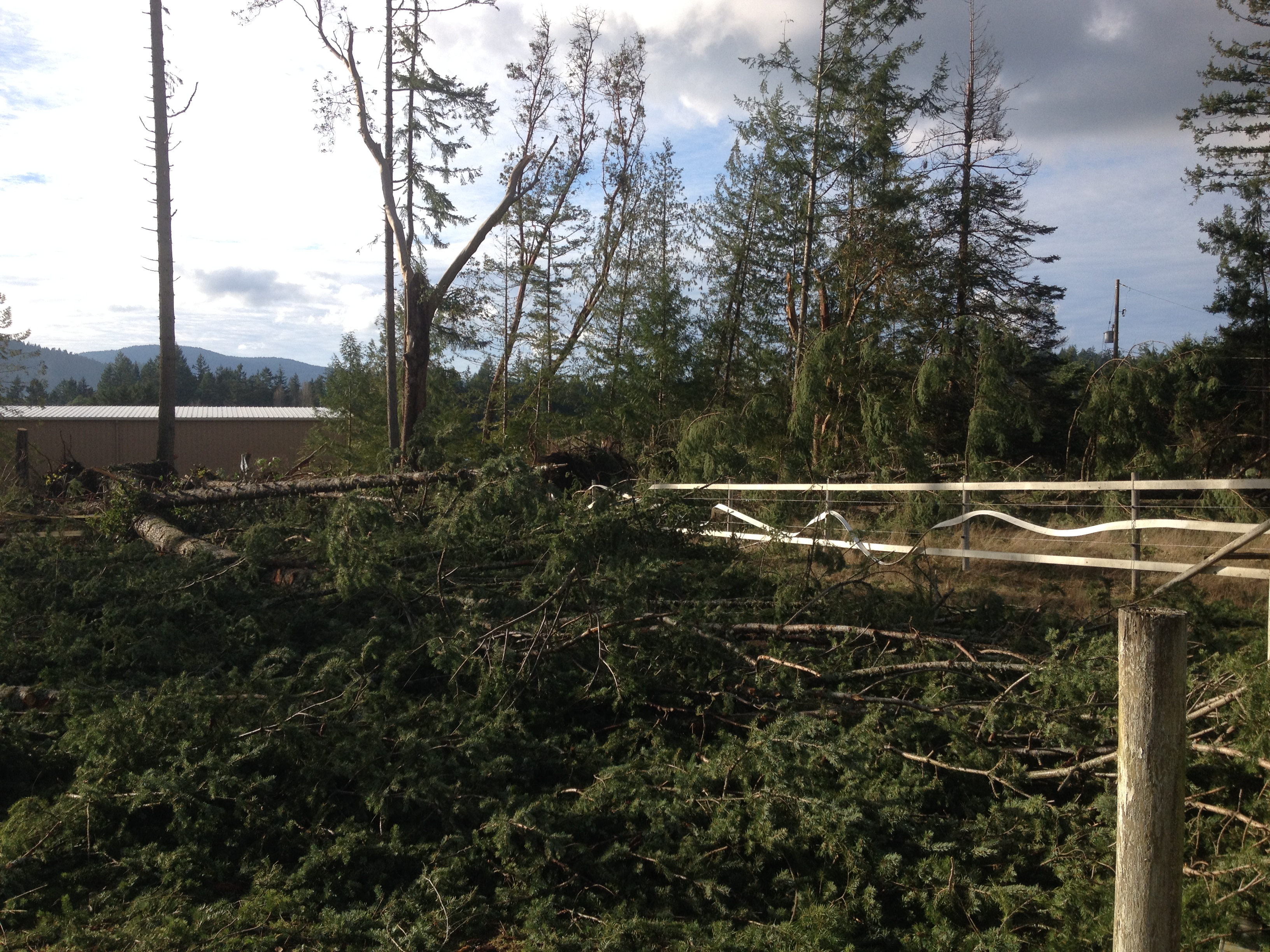 We had family from Alberta planning to arrive both on December 20th & 21st for the holidays. Some neighbours, out of their own necessity, had quite immediately after the storm started chainsawing vehicle-sized holes through all of the fallen trees that blocked the road to the town center. Given such, our visiting family managed to make it out to our place by Friday afternoon, Dec. 21. That day, my family at the house surveyed the damage, got the driveway passable amongst fallen trees, branches and looping power lines, repaired the bird and deer fences, and cleared fallen branches from around the yard.
During our week without BC Hydro power, our house never got cold since the wood fire was kept burning most of the time. Food was prepped both using the barbecues and the wood stove top. We had a decent stash of food. We grow quite a bit of our own fresh produce, and we grow sprouting seeds in our windows for fresh winter greens. I highly recommend other folks take up growing sprouts for themselves and keeping a good store of seeds for such. Despite our existing food stash, we still went to pick up more food goods on a Dec. 22 trip to the town centre. We noticed drinking water at the grocery store was being limited to 10 gallons per customer. During this trip, I witnessed some of the crazy road obstacles created by the storm and talked to a few other locals about their experience and situation in the aftermath. One person figured they would remain without power for ten days. We were surely not the last ones to get our power returned as I know someone who had to wait a full two weeks.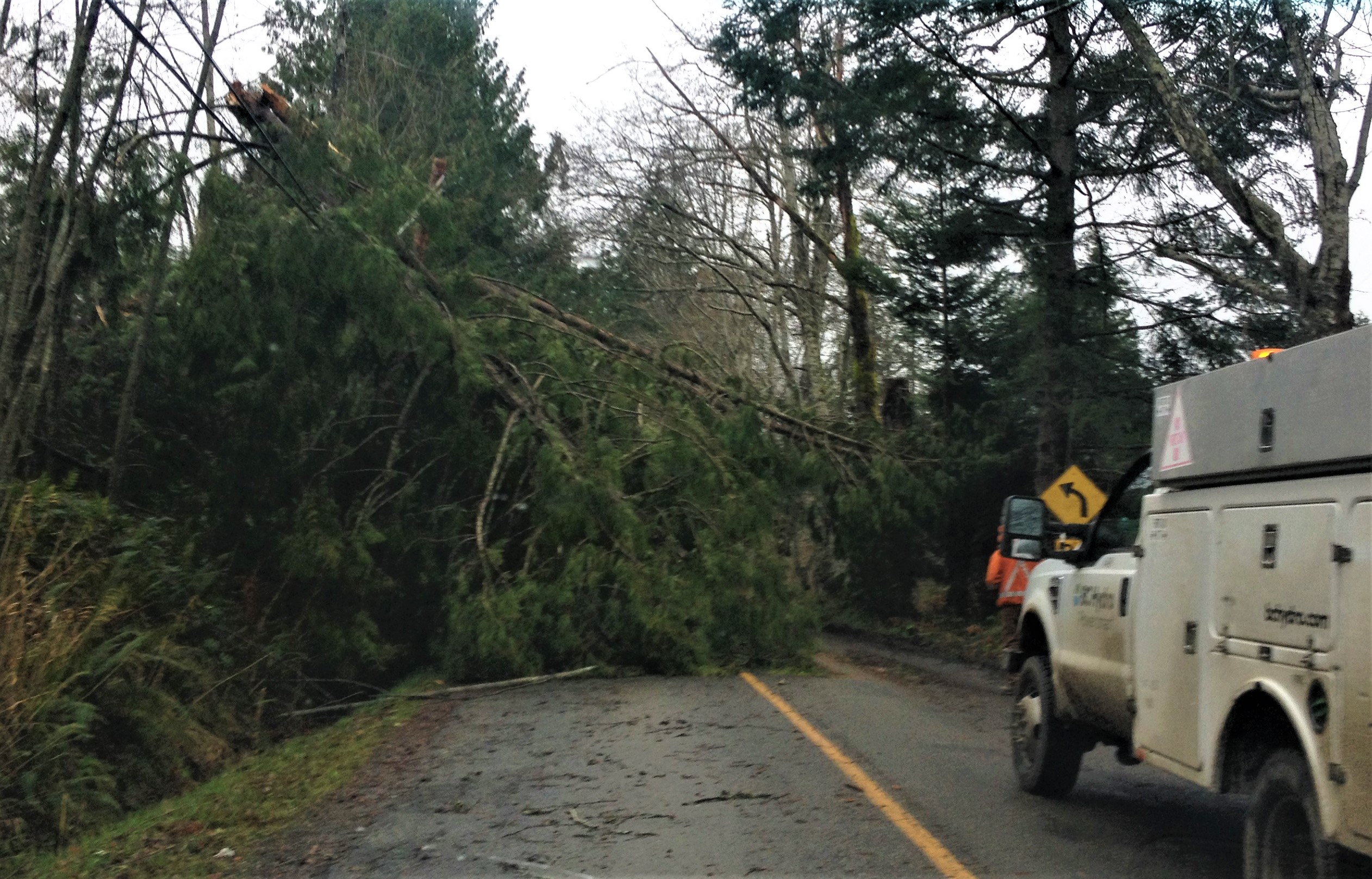 We ran the generator each day for awhile, prioritizing power to run the fridge and deep freezer, as well as for well-water usage and charging a battery pack, which we used for charging electronics. We used the generator to take showers, but flushed toilets with rainwater that we brought in and kept in the washrooms in buckets. We sometimes used the generator to power the luxuries of the electric kettle and toaster oven. The wood stove top is a much slower method of boiling water and toasting bread. We just had to be cautious not to demand too much at once. I had planned to do some laundry the day the storm happened, but that was put on hold until the power came back a week later. We could have handwashed clothing if necessary, but it never became necessary. Our visiting family bought us some extra battery-powered lamps on their way out here to help light up our house more in the evenings.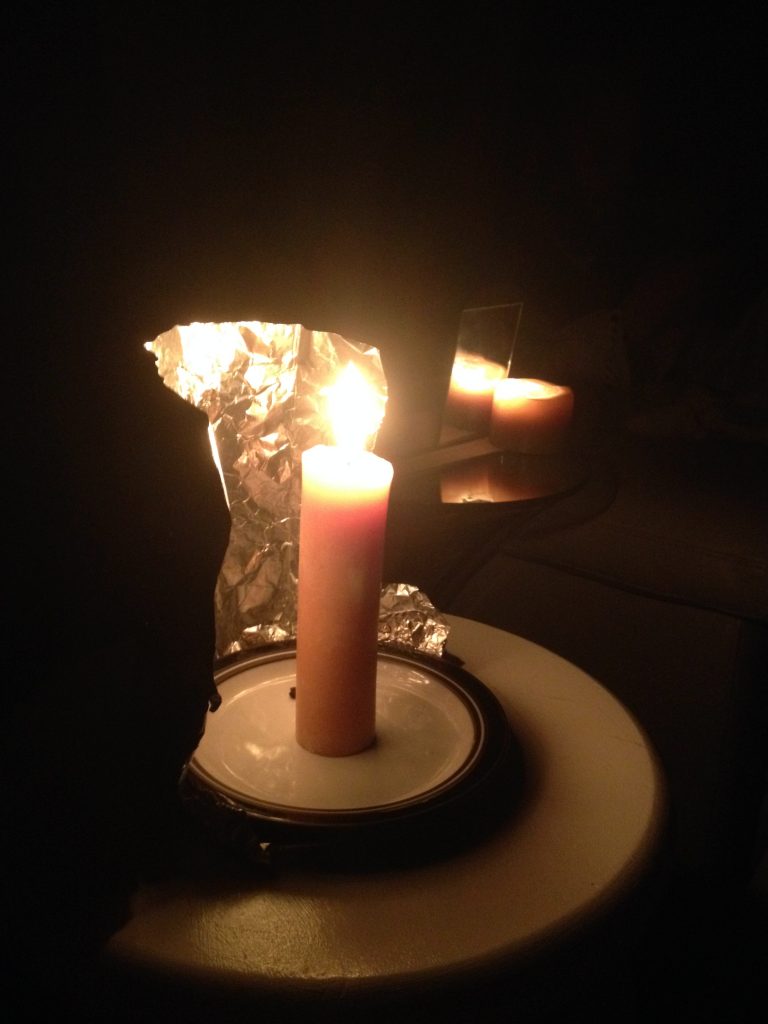 During that week, I went to bed somewhat earlier than usual, used my electronics less than usual to save on battery power, and used pencil and paper more. Overall though, I didn't feel in lack of anything on account of the missing power during our family holiday time, though I certainly would in a longer term as I like to be able to use more power for electronic devices in non-holiday time, and also I much prefer the machine washes the laundry. Some of our visitors seemed to feel quite a bit more lack than me. . . Given such, it felt a bit ironic how our BC Hydro power returned on the day they were leaving, just a couple of hours before their departure.
Preparation for Future Storms
I prefer having BC Hydro connection to having to burn propane, but I hope we can soon find and acquire the means to produce enough of our own renewable energy to not require the propane. As of yet we have just a few independent solar-powered things. We hope to find some microwind technology that is quiet, that won't get ripped off in storms like this last one, and also stronger storms than this one as we can only expect. Perhaps such technology does not exist. I am still somewhat concerned about whether the roof on this house will even be able to stay on through future such storms, and I don't know what we may further do to prevent it from flying off one day. Perhaps this sounds exaggerated, but I think it is a valid concern here.
For now, the power lines are back up, though very certainly they will break around here again in the near future. In fact, we have yet another wind warning today, for ~80 km/hr winds, and my mom is telling my dad to bolt the tarp shelter back to the garage in preparation.
For this last big storm, as things turned out, we were prepared enough, but a large branch or tree falling differently could have easily changed that fact. We know we must take further measures to safeguard our home. We also know we can only expect to see the effects of Climate Disruption grow much worse with fiercer storms more frequently as time goes on, so along with preparing for future storms like this one, we must also prepare for future storms quite a lot worse than this one. In the aftermath of this storm, the question lingers in mind: for the Climate Chaos ahead with all the crazy storms and other destructive consequences that it will bring, how prepared will we need to be to be prepared enough?