FOR IMMEDIATE RELEASE
December 11, 2019

CONTACT: REGINA VALDEZ

***MEDIA ADVISORY***
Ocean Pasture Restoration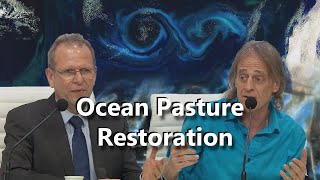 Who: MIT-trained physicist and founder of the Climate Restoration Alliance, Peter Fiekowsky, environmental activist, Russ George, and rock musician and climate journalist, Alex Carlin, discuss the potential of revitalizing the ocean.  Russ George, founder of Planktos Inc., has plans to restore the ocean's health and slow climate change.
What: The climate negotiations are focusing on 'mitigation', that is, reducing society's carbon emissions, and adaptation, adjusting to the climate change that cannot be avoided. However, the restoration of a safe climate for future generations is largely 'under the radar'. There is talk of technologies to withdraw C02 from the air, and talk of planting trees, but proposed solutions are mostly land based approaches.
The Earth is mostly a blue water covered planet, with about 72% of its surface covered with oceans. The capacity of plankton in the ocean to re-purpose huge amounts of CO2 into rich marine biodiversity is an overlooked way of restoring the health of the oceans and the climate of Earth.
We are pleased to present this program on the overlooked capabilities of Ocean Pasture Restoration.
Where: Press Conference Room Mocha, COP25, Madrid, Spain
When: Wednesday, December 11, 15:00 (3:00 pm)
---
Scientists' Warning Programs
We have an exciting line-up of SW programs for this year's COP. They will all be recorded and uploaded to the SW Youtube channel which has since been rebranded as FacingFuture.TV:
We will also be attempting to livestream the programs on Youtube. Here is a snapshot of some of the upcoming programs:
| | | |
| --- | --- | --- |
| Dec. 11: | Ocean Pasture Restoration | Russ George, Peter Fiekowsky, & Alex Carlin |
| Dec. 12: | Climate Restoration | Dr. Peter Wadhams & Peter Fiekowsky |
| Dec. 13 | TBD | |
Website: FacingFuture.Earth
Youtube: FacingFuture.TV
Twitter: Stuart Scott @StuartGaia