FOR IMMEDIATE RELEASE
December 12, 2019

CONTACT: REGINA VALDEZ



***MEDIA ADVISORY***
Climate Restoration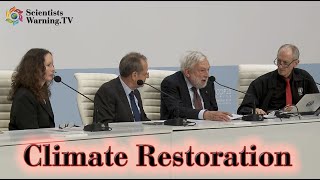 Who: Peter Wadhams is the author of 'A Farewell to Ice:  A Report from the Arctic', professor of Ocean Physics, and Head of the Polar Ocean Physics Group in the Department of Applied Mathematics and Theoretical Physics, University of Cambridge. He is best known for his work on sea ice.  He will be joined by MIT-trained physicist and founder of the Climate Restoration Alliance, Peter Fiekowsky.
What: 'Climate Restoration' is the proverbial 'third leg of the stool' along with mitigation and adaptation. We need to get our heads around the idea that it's not enough to aim at reducing emissions and adapting the the changes already 'dialed in' to the climate system. We must establish a goal of getting atmospheric carbon levels down to a point where human survival with conditions resembling those in which civilization developed and flourished.
Enjoy this intriguing discussion of Climate Restoration recorded live at the UN-sponsored COP-25 climate negotiations in Madrid, Spain in December 2019.
Where: Press Conference Room Mocha, COP25, Madrid, Spain
When: Thursday, December 12, 15:00 (3:00 pm)
---
Scientists' Warning Programs
We have an exciting line-up of SW programs for this year's COP. They were recorded and uploaded to the SW Youtube channel which has since been rebranded as FacingFuture.TV:
| | | |
| --- | --- | --- |
| Dec. 12: | Climate Restoration | Dr. Peter Wadhams & Peter Fiekowsky |
| Dec. 13 | TBD | |
Website: FacingFuture.Earth
Youtube: FacingFuture.TV
Twitter: Stuart Scott @StuartGaia